The ULGMC Committee
ULGMC has a large and friendly committee. Look out for them on trips, socials and at the walls or contact them here. A list of previous committee members can be found here.
---
Keit Mott - President
Email me with general enquiries about the club.
---
Sue Darling - Vice-president
---
Clive Pedder - Treasurer
---
David Roche - Membership secretary
Email me with queries about membership and funding.
---
Vacant - Secretary
---
Elenor Mott - Meets Secretary
I organise the meets list and the Annual General Meeting. Email me if you'd like to know more about a meet or book onto one.
---
Heather Rumble - Committee Member without Portfolio
I've been in the club since 2008 and was Meets Secretary for 3 years before becoming President in 2012. I stepped down in 2017, but have been helping out as Secretary and I am currently the newsletter editor at the moment.
I love fell running, long distance walking and mountain marathons. I also enjoy winter mountaineering and Alpine mountaineering. My favourite UK climbing spots are Lawrencefield, Dinorwig Slate Quarries or bouldering on Dartmoor.
---
Seb Rowlands - Committee Member without Portfolio
---
Stephan Tietz - Committee Member without Portfolio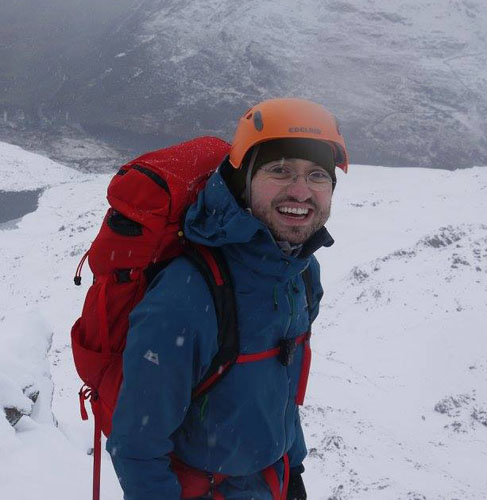 I joined ULGMC in 2010, shortly after I started climbing.  My favourite UK climbing venues are Bosigran and Lawrencefield. I've also done some clambering on the continent, i.e. sport climbing in Spain and France, as well as recently mountaineering in the Iatlian and Swiss Alps. I also enjoy long distance walking and fell running. I have participated in a number of mountain marathons, done the Welsh 3000's in a day, set an only/fastest known time for the New Lipchis Way and the Wayfarer's Walk. I hope to complete the Bob Graham round one day.
I was the club's treasurer and membership secretary from 2013-2017 (as well as 2019-2022) and the president from 2017-2022. Currently, Iam looking after our webpage.
---
Non-committee roles
There are many other people who do various jobs in the club, not all of whom are mentioned here. The main people you may come across or need to contact are:
---
---
Hut wardens and trustees
Mark Stitson - Hut Trustee
Joined the club in 2007 and club secretary from 2007 until 2013. Hut trustee since 2016.
---
Keith Mott - Hut Trustee
---
Mike Pollitt - Hut Trustee
I started climbing with our sister club, the University of London Mountaineering Club, which I joined in 2003. I joined ULGMC in 2010.  I am also a keen walker - particularly in the mountains but ranging from lowland areas to mountain wildcamping to hut-to-hut trekking in the Alps.  I like scrambles and long adventure climbs.
---
Mike Hale - Hut Trustee
I've been a member of ULGMC since 2009. I've been climbing for 20+ years. I grew up walking and climbing in the Lake District and Skye and since then have climbed throughout the UK, skied and mountaineered in Europe. In 2010 I went on an expedition exploring the Tupungato region of Chile. I enjoy winter climbing and am also a member of the Alpine Club. I "enjoy" mountain marathons and help run the ULGMC Alpine trips. I'm keen to see more overseas trips and expeditions!
---
---
Sally Brown - Sub-warden of Caseg Fraith
---