Since 27 January 2022, Fallcliffe Cottage is fully open again, with no restrictions.
To contact the warden/make a booking request visit this page.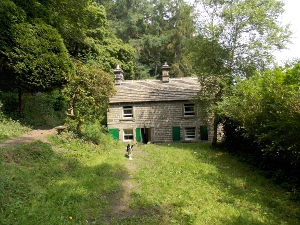 Fallcliffe Cottage is 1.5 miles south of Hathersage on the west side of the B6001 Grindleford to Hathersage road. Froggat, Stanage, Curbar, Lawrencefield, Millstone, Stoney Middleton and many other crags are all within easy reach. Just bring your food, clothes and sleeping bag! 
Fallcliffe sleeps 16 beds in Alpine style bunks split across three bedrooms. The hut has electric lighting and cooking, living room, kitchen, washroom with shower and flush toilets.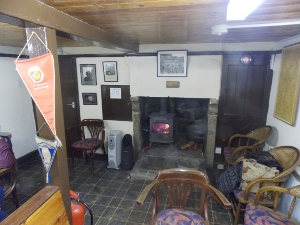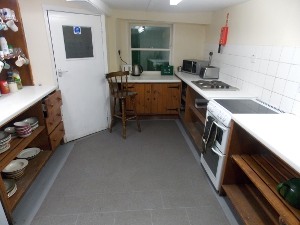 Facilities
Sleeping - Three Alpine style dormitories. Built-in bunks with mattresses only. Bunk space available for parties of up to 15 people. 

Cooking - All electric. Large larder fridge. All pots, pans, cutlery, toilet rolls, tea towels, washing up liquid etc. provided. 

Sanitation - Two flush toilets. Washing - two washbasins and a shower (all H&C). Immersion heater for water heating. 

Storage heaters throughout. Wood burning fire in snug sitting room, as coal burning is no longer allowed in the Peak District.

Access by road with car park.
Location
Fallcliffe Cottage, Grindleford, Derbyshire. 
Grid Reference - SK240792 

1.5 miles south of Hathersage on the Grindleford road. A small cottage on the right with green shuttering and an open courtyard for parking.
For a Google map location, click here
Bookings
Bookings can be requested via the booking form. No individual bookings accepted except for ULMC & ULGMC members.
All correspondence must be sent to the Hut Warden: David Morley, 26 Oadby Drive, Hasland, Chesterfield, Derbyshire, S41 0YF, Tel. 07709 229274
Fees
Current fees, which include fuel and electricity, are £7 for ULGMC members and University of London students, £9 for other students and £12 for guests, per person per night.
Deposits
A deposit of 50% of the total booking must be sent to confirm the places required.  Full payment is required prior to the stay.  All places booked must be paid for
Cancellations
Within two weeks - full fees due.
3-6 weeks - half fees due.
Cancellation fees will be levied if the places are not re-let.
Notes
1. Fallcliffe Cottage is a privately owned mountaineering club hut. All persons using the hut do so entirely at their own risk. No responsibility if accepted for personal injury, loss or damage to property, howsoever arising. 

2. The person making the booking agrees to indemnify the Trustees and the Hut Warden in respect of any damage to the hut or loss or damage to fittings or equipment.